Become An AMSOIL Retailer or Become an AMSOIL Dealer
Between working with customers and managing your shop, it takes a lot of time and effort to run a successful business. AMSOIL provides the tools you need to make selling AMSOIL products easy and profitable while making your business more visible and manageable.
AMSOIL Products are primarily sold through a network of independent dealers that are 1099 Independent Contractors. This business opportunity allows dealers to purchase products at wholesale and resell them. Independent Dealers then earn cash commissions based on monthly sales. Independent Dealers can also work the factory direct account programs by registering accounts such at the retailer and commercial business accounts.  Click here to become an AMSOIL Dealer
Or if you already own a retail business become an AMSOIL Retailer/Installer with us as your servicing dealer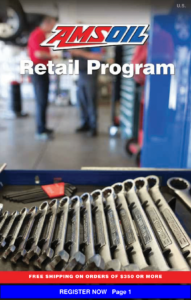 AMSOIL retail accounts in the contiguous U.S. receive free standard ground shipping on orders of $400 or more. Orders less than $400 are charged a flat shipping rate of $13.99. Additional fees for special services, including lift gate, may apply.
Canadian Retailers receive free shipping on orders of $450 or more. Orders less than $400 are charged a flat shipping rate of $14.99. Additional fees for special services, including lift gate, may apply.
Great Perks for Retailers!
AMSOIL offers a free retail merchandising kit to retailers that purchase $400 or more of AMSOIL products. Kits are designed to capture attention and increase sales while your customers are in the store.
The AMSOIL website receives tens of thousands of visitors each day, many of whom are searching for stores or auto service centers that offer AMSOIL Synthetic Lubricants. Qualified AMSOIL retail accounts appear on the AMSOIL locator at amsoil.com with a complete profile page helping increase traffic through your doors.
AMSOIL Products are Positioned to Sell
Whether you are looking for products that support your standards for quality and reinforce your professional reputation, bring in new customers or help grow your bottom line, AMSOIL can help.
AMSOIL products are exclusively available at small and regional chains to protect against predatory pricing. Carrying AMSOIL synthetic lubricants helps you stand out from the competition.
AMSOIL offers everything from advanced synthetic drivetrain lubricants to premium fuel additives, motorcycle oil, two-stroke oil and more. The complete AMSOIL product line insures your customer will find whatever they need so they don't have to shop elsewhere.
AMSOIL retailers are supported by independent AMSOIL Dealers who are familiar with AMSOIL products, processes and programs. They can provide advanced sales support and be an especially valuable resource to your shop. Your servicing AMSOIL Dealer is your resource for success with AMSOIL. He or she will work with you to help you meet your business goals.
AMSOIL Products Are In Demand
Many of today's vehicles arrive from the factory with synthetic lubricants already installed, and manufacturers encourage their continued use to maximize vehicle performance and life. AMSOIL is a recognized and established brand among auto enthusiasts who demand the best for their vehicles. Enthusiasts account for 33 percent of the automotive aftermarket. They take pride in their vehicles; they value power, speed, performance and longevity. AMSOIL products deliver the performance and quality enthusiasts want, driving new and loyal customers through your doors.
AMSOIL CO-OP Advertising Support
To help drive customers through your doors, AMSOIL invests heavily in national television, Internet and print advertising, in addition to Official Partnerships with the nation's biggest events and racing series – including Sturgis, GNCC and more.
AMSOIL also offers a Co-op Advertising Program for retail accounts. Co-op credit is earned according to the amount of AMSOIL products purchased. Co-op credit can be redeemed for print and broadcast advertising featuring AMSOIL products, or for AMSOIL promotional items or merchandising material.
Having what customers want on the shelf is a point of pride and crucial for success. AMSOIL helps you stay on the forefront of automotive technology with specialty viscosities and formulations that provide exceptional wear protection, peak performance and the widest variety of full synthetic products that keep existing customers coming back and new customers coming in.
Your customers know they can expect the very best from you – the best customer service, the best vehicle care and the best products that get them the best performance. Your reputation is the cornerstone from which your success is built.
Carefully engineered, premium AMSOIL products help protect your reputation while keeping your business profitable.
Turn a Profit with with AMSOIL
Synthetics' share of the North American lubricants market is growing. Consumers now generally accept that synthetics are better than conventional oils. In addition, statistics show that people keep their vehicles longer than they used to.
Consumers want to put off the expense of a new vehicle for as long as possible, and synthetic lubricants can help them extend the life of their equipment.
Quick Lubes sell AMSOIL Oil changes
The more customers you move through your bays, the more money you make. Whether it's an oil change, transmission service or other addons like fuel cleaners and chemical flushes that bring in extra profit, having easy and fast access to the products you need at competitive prices is what makes or breaks your business. AMSOIL products can help push the average ticket price up, increasing the profit per ticket while your independent AMSOIL, Dealer is available to ensure you have everything you need when you need it.
How Do AMSOIL Products Stand Up?
Weather its for gasoline engine, diesel or small engines including two stroke, AMSOIL's extensive laboratory and field testing insures that our products outperform the competition. You can rest assured that promoting AMSOIL products to your customers will make you their go to place as well as refer their friends and family.
The list goes on and on. AMSOIL products are designed to perform. With over 45 years experience in engineering the best possible lubricants on the market we have your covered.