Many retailers struggle to set themselves apart from their competition. In today's ever changing retail environment many customers still want to be able to purchase their products locally. Secondly vehicles are ever requiring higher quality lubricants from the factory. This includes synthetic oils. Partnering with AMSOIL Synthetic Lubricants and products attracts high value customers!
We established the AMSOIL Buy Local Dealer Directory to help our dealers and retailers get found in their local market. We are in the digital age and many people turn to Google and other search engines to find products. A growing portion of those people are using mobile devises to search for products and services. Our AMSOIL Buy Local Dealer Directory is mobile friendly and Google SEO (and other search engines) optimized .
We also help our local dealers and retailers get found by utilizing a portion of our advertising dollars for online ads like the Google Ad you see below.
This is a recent Google advertisement that we posted for a local Harley Davidson store that stocks AMSOIL products. We are about creating a Win-Win-Win scenario. Our Retailers win because more customers come to their store looking for AMSOIL. Our Customers win because they can find AMSOIL products locally. We win by growing our business and our network of retailers across the country.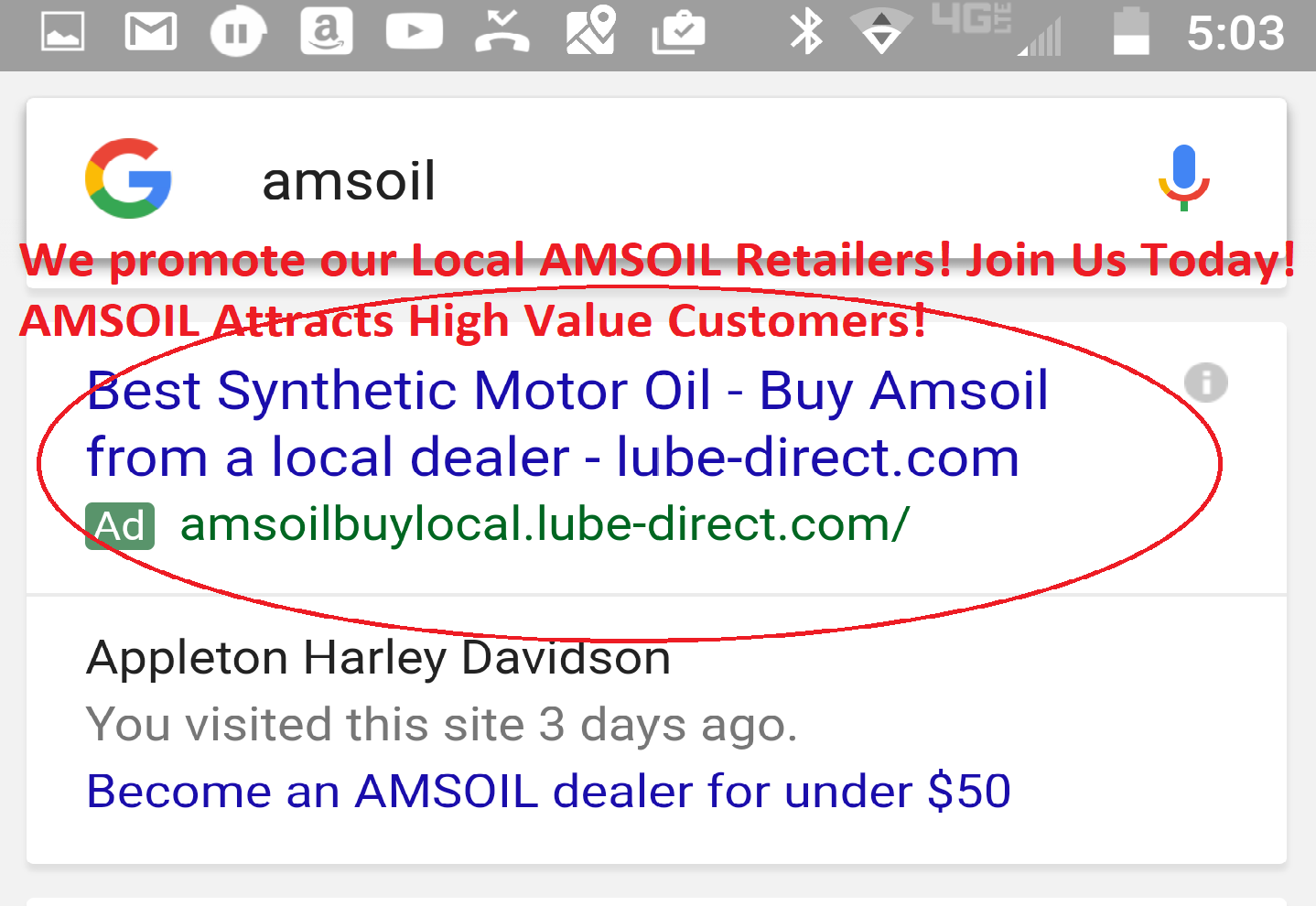 To be listed on the AMSOIL Buy Local Dealer Directory you must be a registered account to sell products. Secondly only dealers and accounts in our group are authorized to take advantage of this directory. This directory is maintained by us and is not a listing of all AMSOIL accounts.
Learn what type of business qualifies to be listed on the AMSOIL Buy Local Directory
Retailers:
An AMSOIL Retailer account is a business that registers to carry AMSOIL products on the shelf. They stock products for customer to purchase in a local market.  This business must also sell associated merchandise at retail prices or provide product as part of a service. This business must not sell AMSOIL products through the Internet or retail catalogs and
must not operate or be located at a residence, and AMSOIL should not be the primary business.
Retailer accounts include but not limited to: Auto Parts Stores, Hardware Stores, Motorcycle shops, Small engine shops, Marina's, Truck Stops, Gas Station/Convenience Stores, Lawn and Garden stores, Automotive Specialty shops like 4×4, Hot Rods, Classic Cars. (Gun Stores can be included with the new AMSOIL Gun Cleaning and Lubricant products.)
Installers:
AMSOIL Installer Accounts are places that carry AMSOIL products to install in vehicles and equipment. These shops can also sell on the shelf like a retailer account, but most of the the business is installing AMSOIL as part of a service. Typically these accounts have a smaller showroom.
Installer Accounts include but not limited to Automotive service, Quick Lubes, motorcycle/ATV service, small engine shop, boat repair, car dealerships, heavy equipment maintenance, truck stops, truck repair, air compressor maintenance, and more.
Dealers:
AMSOIL Dealers are independent business owners that register to sell AMSOIL products. They earn commissions on the sale of AMSOIL products as well as commissions on registered accounts that stock products. AMSOIL Dealers can build an AMSOIL business part-time or full time. Many small business owners are able to start a secondary income stream as AMSOIL dealers. They can work the business in conjunction with their full time business to build residual income. To learn more about the AMSOIL Business Opportunity visit our Become an AMSOIL Dealer page
Open your AMSOIL Account today and get listed on the AMSOIL Buy Local Directory.
Fill out the Contact form on our website or give us a call 931-801-9401