5 Ways that AMSOIL helps you meet the challenges of running a successful business.

1) ATTRACT MORE HIGH-VALUE CUSTOMERS
Every business wants more loyal, high-value customers. Let AMSOIL help you do that in the following ways:
• Exclusivity – AMSOIL products aren't available everywhere. To avoid predatory pricing and help you compete, we don't sell AMSOIL products through big-box retailers. Instead, AMSOIL products are sold through businesses like yours – Places where people value quality over rock-bottom prices. Places where personnel know their stuff and can provide their customers the type of expertise and service after the sale unavailable elsewhere. Carrying AMSOIL products positions you as the go-to place for AMSOIL products in your area and distinguishes you from other businesses.
• Visibility – Tens of thousands of people visit amsoil.com every day, many looking for retail businesses that sell AMSOIL products or install them as part of a service. Qualifying retail accounts appear on the AMSOIL Locator, helping drive customers through your doors. Plus retailers and Installers who work with us (Michael & Alecia Sparks, AMSOIL Direct Jobbers) will be listed on the AMSOIL Buy Local Directory at no charge. This is a win-win-win… A win for you, A win for AMSOIL and a win for us to be your servicing AMSOIL Dealer.

• Loyalty – Most of your current customers probably aren't loyal to one motor oil brand. Our customers (AMSOIL Users), however, tend to be enthusiasts – people who care more about protecting their vehicles than the average motorist. They trust our products, seek them out and don't quibble about paying a premium price for a premium synthetic motor oil. AMSOIL customers offer a great complement to your current customer base and help you boost sales.
2) BUILD YOUR REPUTATION FOR EXCELLENT SERVICE
We realize that word-of-mouth referrals are critical to your business. AMSOIL products are engineered with an extra measure of wear protection you can rely on to take care of your customers' vehicles, including today's demanding turbocharged, direct-injection models. For example, AMSOIL OE Synthetic Motor Oil, our line designed specifically for business like yours provides:
47 percent more wear protection than required by the GM Dexos1 Gen 2 specification
100 percent protection against LSPI2 in the engine test required by the GM Dexos 1 Gen 2 specification
Excellent protection against damaging deposits and sludge
Maximum fuel economy
3) MEET THE DEMANDS OF INCREASINGLY COMPLEX AUTO TECHNOLOGY
The auto industry is constantly advancing, and few people have time to keep up. We do it for you, by formulating a full line of synthetic lubricants designed to exceed the latest industry specifications.
API SN/ILSAC GF-5
GM* dexos1* Gen 2
API CK-4 (diesel)
Formulations specifically made for sophisticated European engines
Mercon V, Mercon SP, Dexron III, Dexron VI, ZF and other popular transmission fluid specifications
Heavy Duty Gear Lubes for all truck and automotive applications
4) FREE, FAST SHIPPING
Orders of $350 or more ($450 Canada) get free shipping*. Orders below those thresholds pay a flat rate of $11.99 ($13.99 Canada). In addition, 99 percent of orders ship within 24 hours if ordered by 5:00pm. Central.
Shipping offer as of 4-21-2019 (subject to change)
5) MERCHANDISING SUPPORT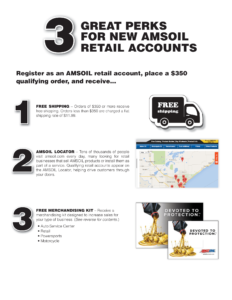 Once you place an initial qualifying order of $350 or more ($450 Canada), we'll send you a free Merchandising Kit that helps boost visibility. Kits include a window decal for your shop, counter mat and custom oil change decals. You also earn co-op credit with each purchase you make, which you can redeem for signs, banners, hats and other promotional material.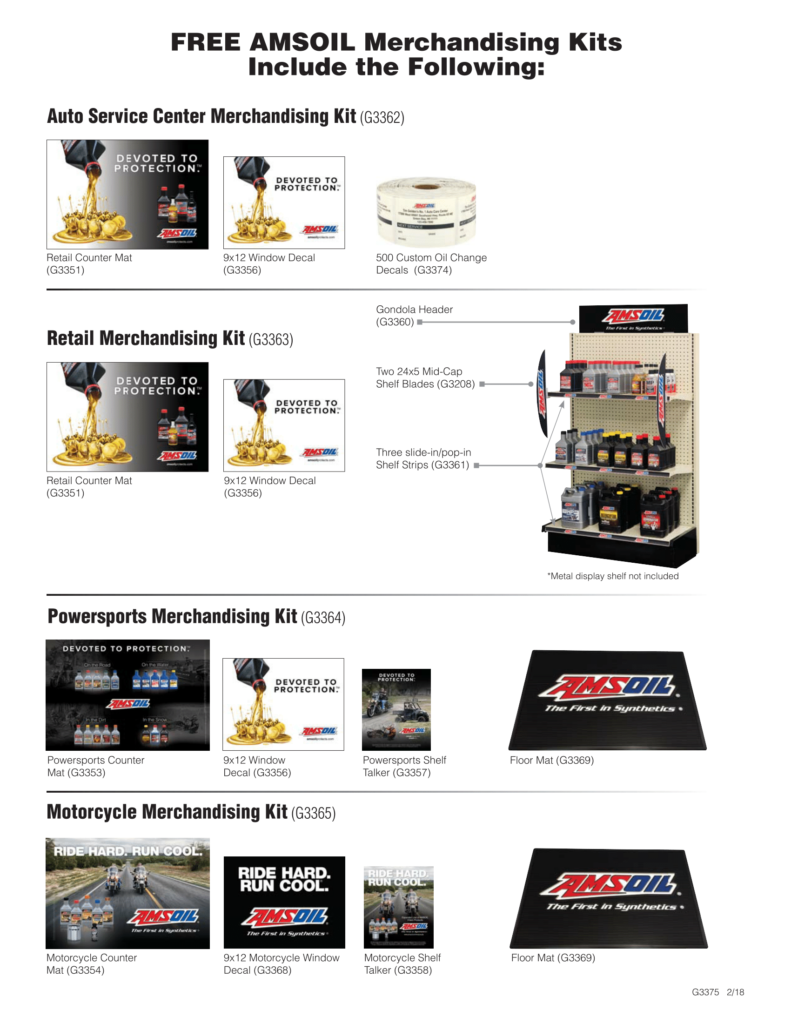 Each type of AMSOIL Retailer or Installer is eligible for a Merchandising Kit when setting up a new Factory Direct Account.
Auto Service Centers get a counter mat, window decal and custom oil change decals (contact your servicing dealer to setup)
Retailers such as parts stores and hardware stores get a counter mat, window decal and shelving material.
Powersports and motorcycle shops receive a counter mat, window decal motorcycle shelf talker and floor mat.
Are you ready to setup your Automotive Shop today?
Michael and Alecia Sparks are full-time AMSOIL Dealers and work with business owners across the United States and Canada. We are experienced in helping AMSOIL retailers earn higher profits, attract high value customers and get referral business from their current customers. Let us show you how adding AMSOIL products to your business will increase your profits!

Ready to get started as an AMSOIL Authorized Retailer/Installer?
Careful attention when registering:
Are you working with an Independent Dealer? Enter their info here: Michael Sparks

Referral Number? 513524
If you have questions about setting up your AMSOIL Retailer Account please don't hesitate to call us at 931-801-9401 call/text or contact us via our contact page: https://amsoilbuylocal.lube-direct.com/contact/
All trademarked names and images are the property of their respective owners and may be registered marks in some countries. No affiliation or endorsement claim, express or implied, is made by their use.
All information is considered accurate at the time of publication, and is subject to change. Contact your servicing AMSOIL for most up to date information regarding specifications, promotions and support.